About the Prints
Robert Hansen makes fine art prints using many different archival printing methods depending on the subject matter and what best portrays the original vision and emotion of the scene. Listed below are the various printing methods and materials that he uses. Please understand that no computer screen can begin to duplicate the beauty and subtlety of these prints—they truly must be seen in person to be believed!
Above: "The Blue Corridor" from Robert's Mexican Color series. This 40"x50" framed piece represents the special edition Varnished Pigment process which has a protective varnish UV inhibitor applied to the print introducing texture to the architectural studies of southern Mexico and also eliminating the need for protective glass. The question often asked is "is this a painting".
Below: Examples of the "Yellow Corridor" and "The Blue Corridor" from the Mexican Color series on display at the prestigious Forest Ocean gallery in Laguna Beach, Ca. Each special edition Vanished Pigment Print comes framed as shown with a linen matt, signed, and numbered. The edition size for this series is 15 with two artists proofs.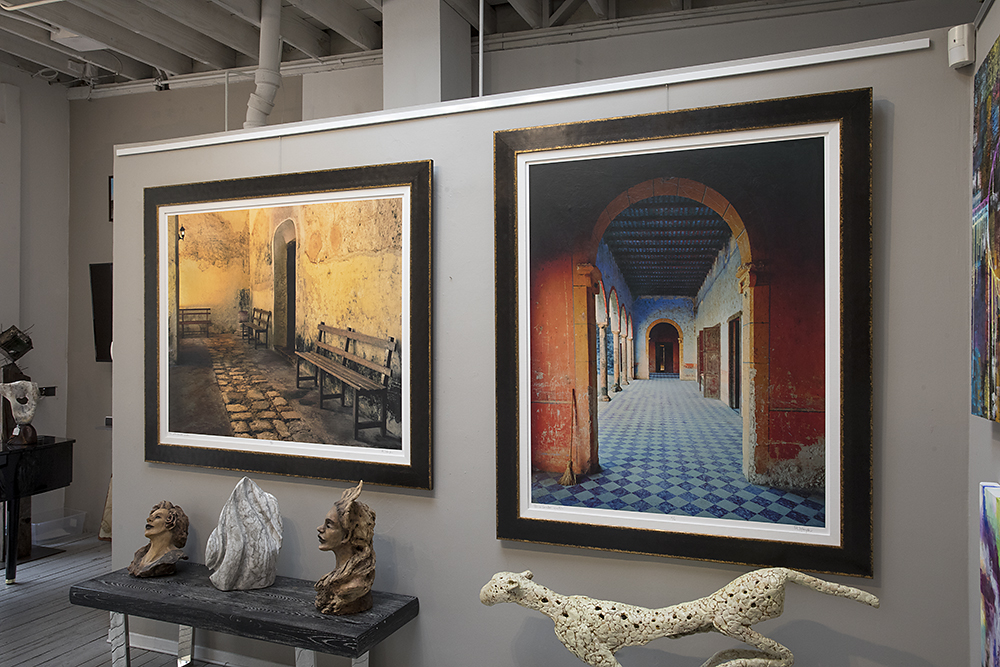 Below: Exhibition of large "Varnished Pigment Prints" at the Festival of The Arts, 2019.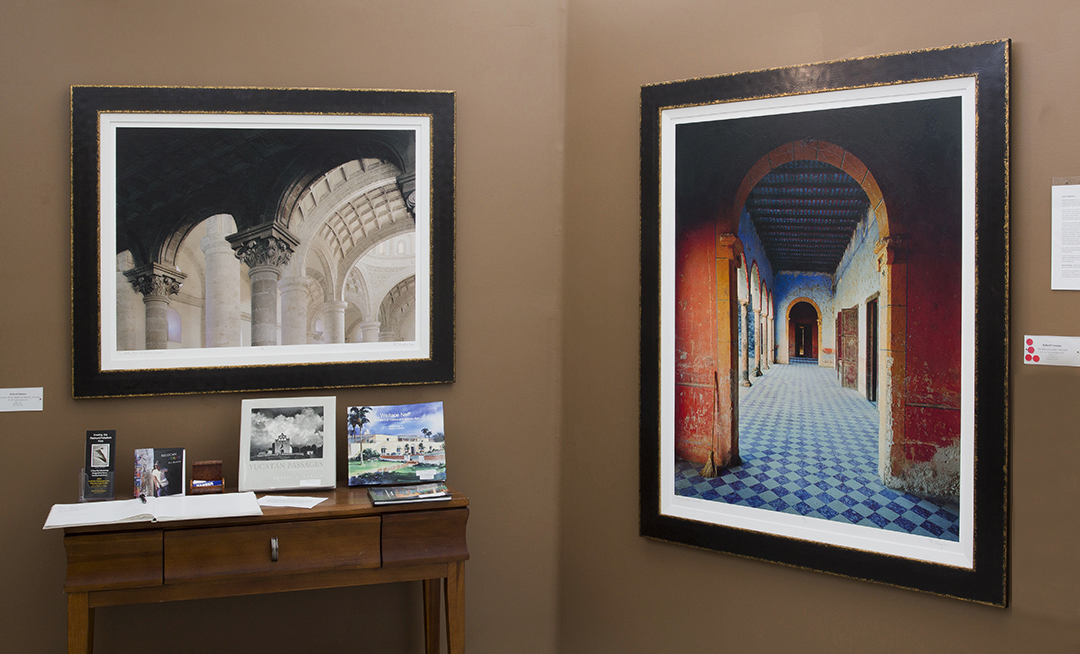 Below: Three framed prints from the Mexican Color series, were installed in a high rise in Philadelphia. This display was conceptualized as a unified presentation with matching 30"x40" prints. Each print was Varnished and over matted with a linen liner and uniformly framed. Robert offers design services, working with professional framers in the southern California area. Crating and shipping services are also provided for clients.

In 2021 Robert started applying the archival varnishing process to select images in the Ancestral Puebloan series. The image below is titled "Picuras Pueblo, N.M.". This special process is offered for 30"x40" and 40"x50" limited edition images with strong architectural and graphic visual content.

(Email: robertahansen@roberthansen.com for specific information on print availability, framing, and shipping information.)
Below: "Picuras Pueblo, N.M."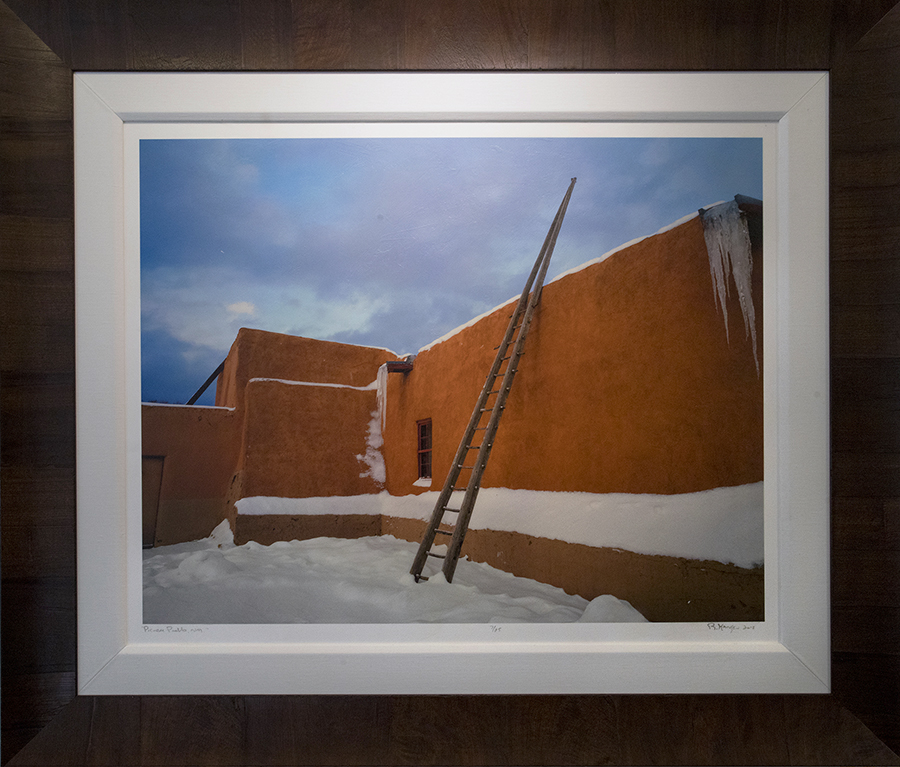 Platinum/ Palladium
This process was invented in the late 1800's. It involves using Platinum and Palladium metals combined with a sensitizing agent coated on archival watercolor paper and contact printed with the photographic negative to arrive at a positive print. This beautiful, full tonal process was a favorite of the early pioneers of photography including Edward Weston, Alfred Stieglitz and Frederick Evans. When used with the appropriate subject matter it results in an ethereal, full tonal image that conveys the emotion of the original subject better than any other printing method. It was only after the metals became hard to obtain during World War I that Edward Weston began to explore glossy gelatin silver papers.
Robert has used the platinum/palladium printing method for many of his Yucatan Passages and Black and White Ancestral Puebloan prints. Many of Robert's original Mexico negatives are made with an 8x10 view camera and contact printed on Arches watercolor paper. This classic process is made even more rare by the scarcity and price of the Platinum/Palladium metals. Each image printed with this method is a one-of-a-kind print although it is editioned at 25 prints per negative.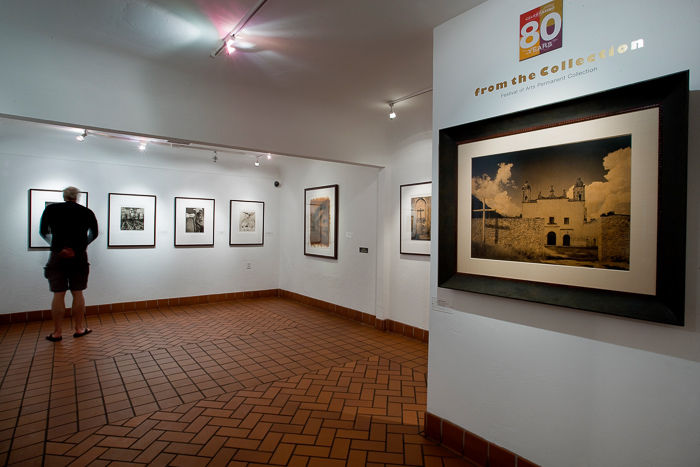 Above: Gallery Exhibition for Yucatan Passages 2012
Below: Juried Exhibition of Yucatan Passages images, 2016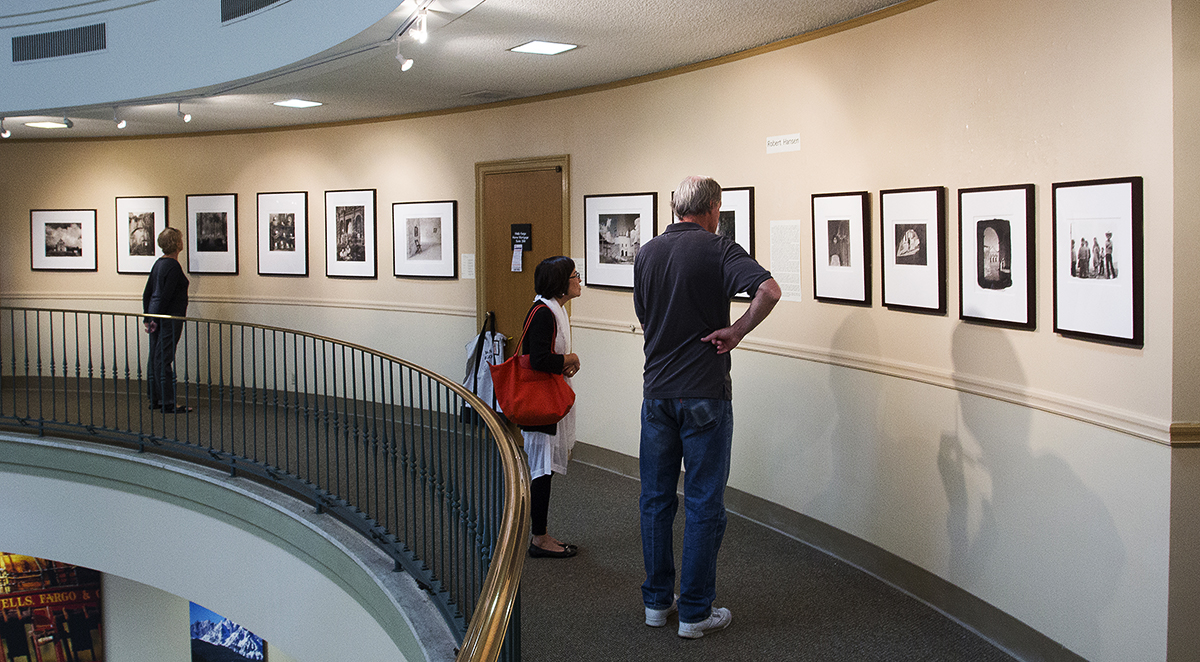 Below: "Yucatan Dream # 2" 16"x20" Platinum/Palladium print on Arches watercolor paper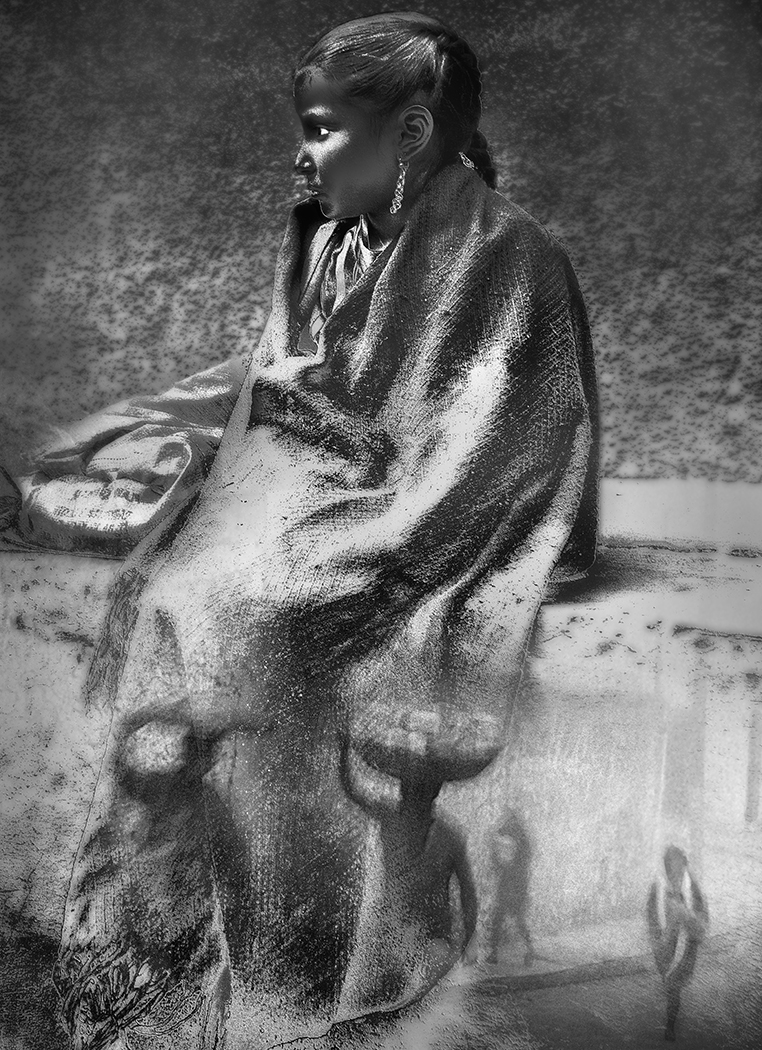 Shipping: Platinum Palladium prints are archivally hinge mounted on 24"x30" 4 ply museum rag board, packaged, insured and shipped throughout the United States. For an additional fee the mounted print is over matted using an 8ply museum rag board. Contact Robert for specific shipping charges.

Gelatin Silver
The gelatin silver printing process is the most widely recognized photographic process used by the west coast school of photographers. This process involves projecting the Black and White negative down upon a sensitized, coated piece of photographic paper and developing that paper in various developer solutions. Robert no longer makes Gelatin Silver prints due to the inconsistency and scarcity of the papers. He uses the Pigment printing process on watercolor paper or the Platinum Palladium process employing enlarged negatives for his Yucatan Passages and Ancestral Puebloan B&W images.
Pigment Print
Color Pigment prints are made by digitizing the original 4x5 photographic transparency (or working from an original digital file) and printing the image using an Epson 9800 Pigment printer. The inks used on this printer are designed to be non-fading and last from 100 years and longer depending on the print surface. The digital workflow allows for extremely precise artistic control over every detail of the finished image, and the pigment print method of making photographs is by far superior to the older wet process color methods (except for dye transfer).
Robert uses heavy weight Ilford Premium Luster paper for pigment prints in the Color Landscape portfolio and 200gsm textured fine art watercolor paper for prints in the China Lake, Transportation/Trolley, Mexican Color series.
Shipping: Pigment prints are sealed in archival material, rolled into a tube, insured and shipped. Contact Robert for specific shipping charges.
Larger sizes: Larger sizes are available, as well as special framing requests.
(Contact Robert At robertahansen@roberthansen.com.)
Below: "Mikado Locomotive" (80"x20" pigment print on watercolor paper, floated in a black frame). All Transportation Series prints are framed and displayed in this manner.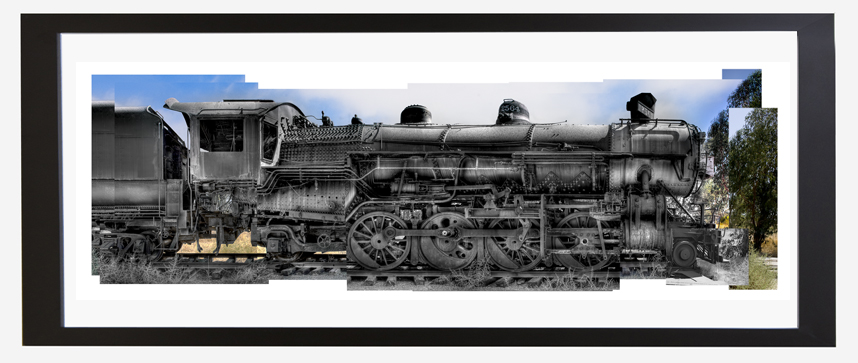 Plexiglass Face Mounted Prints:
A process used for both commercial and fine art presentations is called "Face Mounted Pigment print" on archival Plexiglass. By face mounting a glossy pigment print directly onto a 1/4 inch piece of Museum grade plexiglass, the image takes on a brilliance and depth that is breathtaking. This process is very effective for large-scale landscape and graphic color images where sharpness and brilliance are the goal. Displayed in modern architectural settings, these artworks compliment the interiors and add to the original minimalistic vision of the space. Robert's "On the Edge of Darkness" series uses this process exclusively.
Above: "Laguna Beach Lifeguard Station" (55"x40" plexiglass print)
Below: Modern Architecture with Robert's "Huntington Beach Pier" (80"x40" plexiglass print)
and "Aspen # 2" (50"x40" plexiglass print) installed.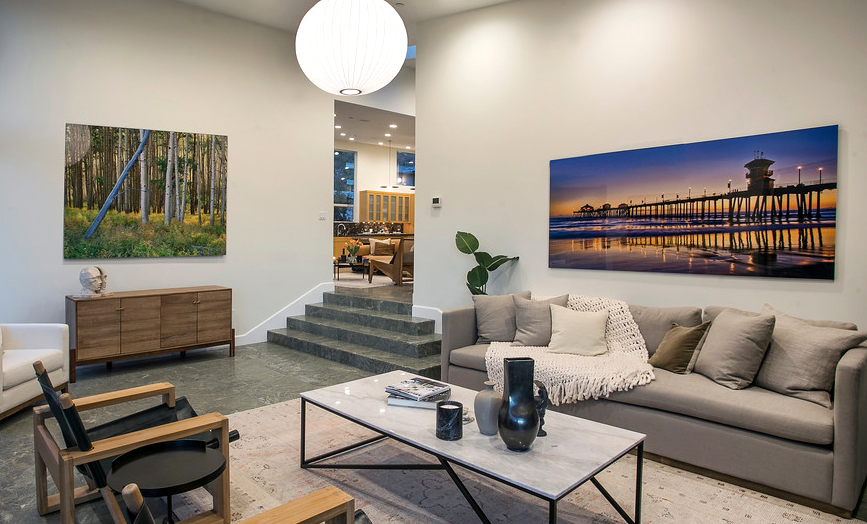 Shipping: All Plexiglass prints for the "Edge of Darkness" series come face mounted on 1/4" archival plexiglass with a wood stretcher frame / hanging block brace on the back. This keeps the work of art flat and makes it easy to hang. The work is then carefully packed, boxed, insured and shipped.

Larger sizes: Larger sizes are available on a special order basis. The large pieces in the photo above were printed for an architect on special demand from the same files that are used for the smaller prints.

(Contact Robert at robertahansen@roberthansen.com)